This is one of those special moments, a recipe to look forward to. It uses sustainably caught seafood and is a blend of worldly flavors thoughtfully placed together in a memorable fashion.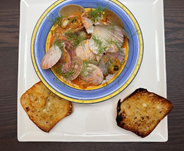 This recipe was recently sent to us by Mike Levitt, a Skipper Otto member in Vancouver. In Mike's words, "wow, wow, wow! Those Scallops are simply fantastic! I think this might be my best meal I've made with the fish."
½ box Skipper Otto Scallops
½ can Skipper Otto flaked, smoked Albacore tuna
900 ml pho broth
1 shallot (finely chopped)
5 baby carrots (sliced into small rounds) or 1 carrot (cleaned & medium chop)
1 large garlic clove (minced)
1 inch fresh ginger grated
2 T fennel (same size as the carrots or slice the fennel 'arms')
30 g butter
2 T quality tomato paste
handful of Black Oyster Mushrooms (wiped clean and shredded by hand)
2 T sour cream
sea salt and freshly ground pepper to taste
Melt butter over medium heat in a saucepan.
Once butter melted, gently fry onions, carrots, and fennel until translucent.
Add garlic and ginger and fry for about a minute – do not brown.
Add tomato paste and blend in well with the other ingredients.
Cook for about a minute to incorporate the tomato paste well.
Add the mushrooms (can use any exotic mushroom instead of oyster).
Then add the Pho Broth.
Once the broth is at a nice bubbling boil, add the frozen scallops and they will start opening after 2 to 3 minutes.
Remove about ½ cup of the broth and mix the sour cream into the cup.
Once well mixed, add back into the broth, mix, and gently simmer for another minute.
Prior to serving, mix the flaked tuna into the broth.
Once dished into bowls, garnish with the fennel fronds.
NOTES:
the sour cream can be omitted.
Thanks to Tianna Barton of Skipper Otto who inspired the idea of adding the tuna.